September 18-20, 2012
San Antonio is a great city sitting in southeast Texas. It is the home of the famous River Walk. It was also home of the 2012 Renshaw Reunion. The hotel was great and we enjoyed an outstanding day at the Museum in Fredericksburg, TX.
We had a ceremony dedicating the new Renshaw Plaque on the wall in the museum garden.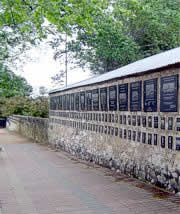 Shipmate Don McElfresh has written a tribute to WWII Shipmate Dick Post.